Hi everyone!
As part of my organizing I've come across a super easy way to make a do-it-yourself version of this!
I could not get a photo of the whole thing, sorry. But it's so easy! I've placed it in a 4 ft. section in a walk-in closet, 2" below the shelf and 5" out from the wall.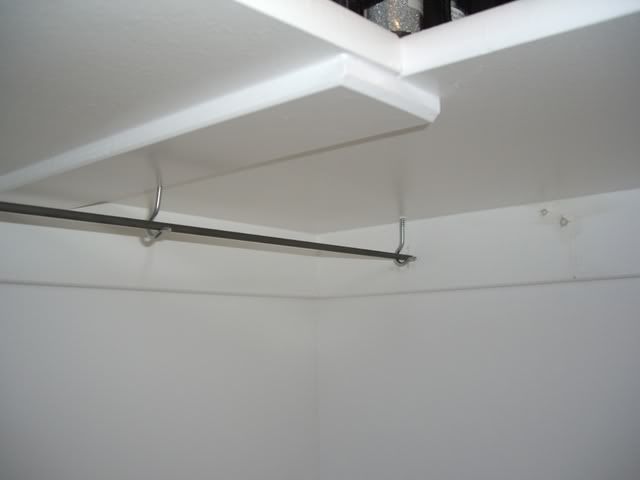 Supplies:
1/4 metal rod / found a 48" one at Home Depot for under $4.00
Metal Hooks, like super-duty cup hooks / at Home Depot at .99 per bag of 2
Badge Hangers / found at Michaels for under 3.00 per bag of 21 (bead aisle)
Tools:
Measuring Tape & pencil to mark it
Screwdriver to remove clothes rod if you're doing this in a closet with one.
Drill with a 3/32 drill bit (the bit just has to be smaller than your hooks)
Pliers
Rag to clean that rod, oh man, it's got something on it, don't get it next to your clothes when you buy it!
Instructions:
1- Remove the clothes rod from the closet (you can see where I've removed mine, but not painted yet.)
1- Measure your spot. Cut metal rod to fit. If you look really helpless and are super nice to the guys at Home Depot they will take pity on you and they might just cut it for you ;)
2- I pre-drilled the holes before screwing in the hooks, and they still needed a lot of muscle. This is the toughest part, so take heart, when it's done you will be almost there! Oh, and I kind of alternated the final direction of the hooks to add to the rod's stability.
3- Use some big pliers and squeeze the hooks until they hold the rod firmly. This is so you don't lose the rod at a most unopportune (or is it inopportune?) moment - like when it's full.
I would have got eye hooks instead of cup-like hooks if I could have figured out how to put the rod in afterwards.
4- Open those badge hooks from Michaels and start putting them on! I used the pliers again here as I don't care about taking the hooks off again but know I don't want them falling all the time. Just don't squeeze them closed so tight that they don't move along the rod easily.
See - easy, easy!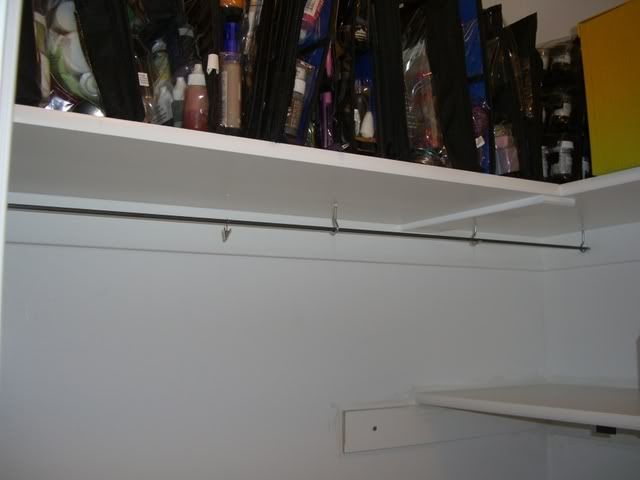 Hey, you see the black organizers up there? Those are what I use to store everything I need for each technique. One bag per technique. It's so easy to just grab what I need when I need it, I even keep the how-to instructions in them. I love this system!
Watch soon I'll be posting photos of the filled up clipping organizer soon, along with photos of the finished supply closet (When I get it done anyway!)
Just ask me if you've got questions!