Just take a look at this little guy! Boy did he give my heart a start yesterday when I opened my car door and almost stepped right on him.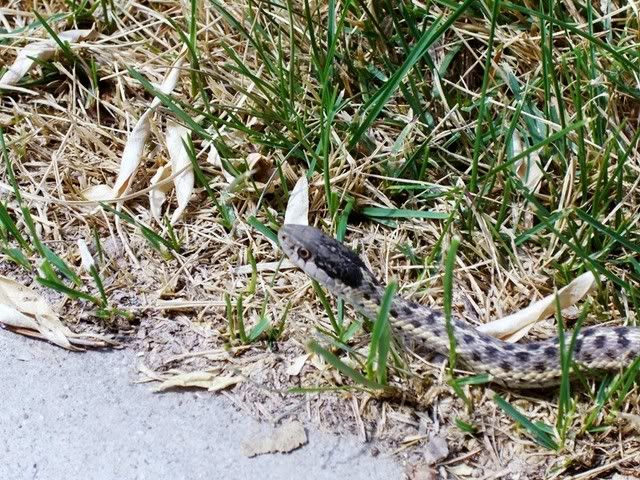 After the initial surprise, and Lexy's immediate question of whether it was a Rattlesnake or not, well, we recovered and got to watch him flick out his tongue in an attempt to figure out what in the world these strange creatures were doing just staring at him! All too soon, he decided it was time to take his leave and depart.
More great news today!
I've got more views of how the studio is coming along:
First, a not-so-good photo of the south wall in the closet. I'm still opening box after box and NOT finding the frame to my scraprack! Until then, I just have the 'guts' (the three ring velcro binders) sitting on top of the dresser. I have to say that I am so EXCITED to see that dresser in there finally! It's got all my alphabets, flowers, ribbons and rubons in it.
Now a photo of my Bookshelf wall - it's still in progress -eek, but I could not resist...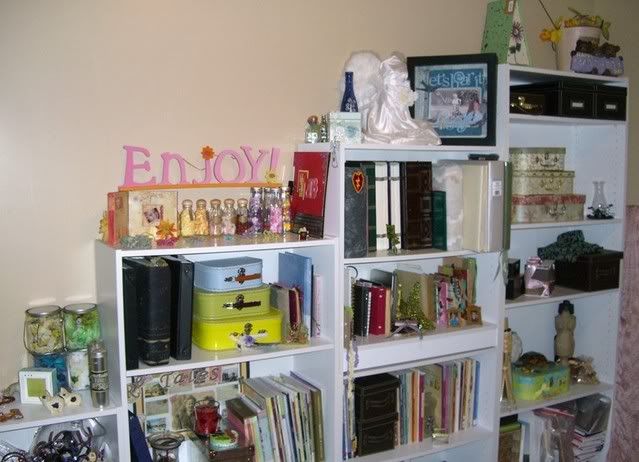 I'm still unpacking craft books, supplies and little collections - oh how I love my little bits. I don't quite know what to call them, but they are my little things I've collected that were just too cute, or novel, or really really cool! Little things like glass dangly things, super mini chairs that are photo holders, silly cows and pigs, wire angels and such. I love being able to have them out and in site once again!
Anyway... back to the shelves themselves...
Theoretically I am to house all my craft books here - ha! I don't think I'll make that happen, too many books. Hmm, you would think I was a librarian or something ;)
I just love all my mini suitcases! Inside there are lots of oft-used supplies ie: The Bling box, Eyelets(the smallest one), Brads, Dymo labeler, 7Gypsies Wax Seals, Office Supply and more. I've had to move my Chipboard and Soldering supplies into life-sized suitcases that are stacked on the floor next to my angel's feet. Good thing I saved my mother's old luggage!
I do have 2 shelves reserved for vacation-themed memorabilia. I just have to make my Hula girl doll to finish off the Hawaii shelf and the other shelf already has my Oregon altered minibook along with framed photos on it.
Now I just have to figure out what in the world will work for the storage of my photos! Ack! Double Ack Ack!! I'm into them so often, I'm adding to and taking out so much. A file cabinet would be heaven-sent, but I don't want (and more importantly don't have room) for one in my room. Got to get the brain working on this puzzle, and soon!