I've been playing in my room!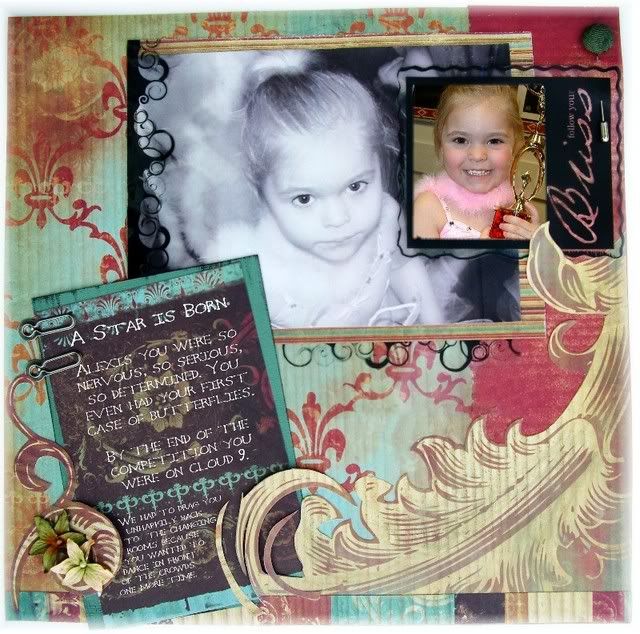 Follow your Bliss...a Star is Born
Here I had fun playing with Cosmo Cricket's Wanted papers. Can you tell that I love richly colored papers? LOL! They are just plain YUMMY! Almost too good to cut. I did meet the owners (both co-owners) at the grand opening of the Orem Archivers, what nice people! Although, that is not what prompted my purchase (I had already bought some of their stuff!).
Also, do you see that great transparency I used? It's from none other than my wonderful friend Tineke (aka Jantien). If you want to see more, I'm sure you can check it out on her
blog
The story behind these photos is so much fun that I had to write it on the back of the LO... This is Lexy's first dance competition. She was so serious-minded about the whole thing. I had a hard time keeping a straight face. Everytime I looked at her somber face I had to hide mine. I did ask her how she was doing. The cute bug! She told me that her tummy felt funny, kind of like it was tickling.
I managed to snap this last photo of her as they headed off to the auditorium, so still, amidst the rush around her. Everything in the photo is blurred except her face. Yes, dance competition hallways are crowded busy places!
After her performance she was a different child. She wanted to go back out and dance! We had to literally drag her back into the changing rooms. I'm afraid we are going to have our hands full with this child - she loves performing in front of crowds.