The sky is gray, the air is filled with dust, I can barely see the outline of the mountains across the lake - -
it's getting to me today - the total blech of it all.
Or, maybe I'm just feeling those Sunday blues, the 'I have to go back to work tomorrow and I didn't get near enough accomplished on my days off as I needed to' feeling.
On the other hand - Lex learned how to ride her bike! Finally! She didn't have a chance the last 2 summers, for one there was no sidewalk or road, just really soft gravel and farm dirt. For the last, well, I think the newly moving in our house sidetracked a lot of things.
So, with the help of her older brother, and a bit from me, Lex has mastered the two-wheeler bike with no training wheels.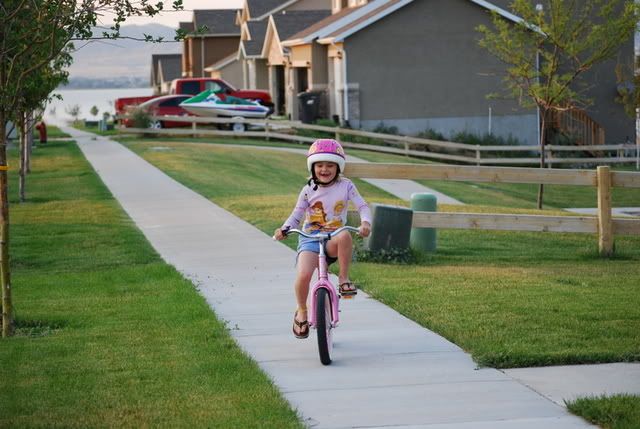 (I took video the first round. She was so excited to be riding that we had to go back out just before bedtime - in pajamas - and that's when I had the camera.)
I can tell now that she was really ready, once she got the balance thing down it was a done deal. She can make tight turns and stop - things I did NOT learn for that first year after I taught myself. Of course, it was in the steep hills of Fort Ord. I remember that I had to put the chain back on the bike everytime I crashed - I only crashed everytime I rode it.
Now take a look at this one: I love how she has to have the tongue going!