How many of you have old photos that really really suck? Sorry for the language. But, seriously now, how many?
I have a LOT. Back in the 80's and early 90's I THOUGHT I was taking a lot of photos, at one roll per month! HA! Can you imagine only taking 24 to 36 photos a month?
Well, with 'old style' (35MM) photography you don't know what your photos are going to look like until you get them back. I was happy if I got ONE great photo a roll! That equals ONE photo per month.
So what do I do with all the non-great pictures? I have them, I have the negatives, I've tried to have them scanned to digital, but technology isn't quite advanced enough to get the perfect results I want. I'm still waiting on affordable high quality negative scanning.
So, in the meantime, I'm stuck. I have crappy photos and they are the ONLY photos I have of my boys. This is the challenge:
How do I create a Layout that uses old not-very-good photos and still create a page that I would be proud of hanging on the wall?
So, take a look, this is my first try: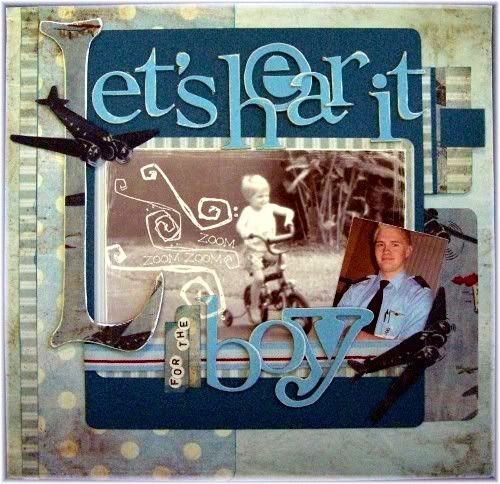 BTW, there is more to the story on this page - My oldest boy, told me he wanted to be a pilot when he was 2. Yes, as soon as he could talk. Well, now he is on the verge of graduating from flight school. This page is in honor of his determination.